Paradigma actual de la cistopatía diabética en México
ARTICULO DE REVISIÓN
Gonzalo Lira-Moreno

Secretaría de Salud, Hospital Juárez de México, Ciudad de México, México .

https://orcid.org/0000-0003-3446-560X

Stefania Serrano

Secretaría de Salud, Hospital Juárez de México, Ciudad de México, México.

Omar Hernández-León

Secretaría de Salud, Hospital Juárez de México, Ciudad de México, México.

https://orcid.org/0000-0001-9922-7421

Hibert Castellanos

Secretaría de Salud, Hospital Juárez de México, Ciudad de México, México.

https://orcid.org/0000-0001-8452-8483
Palabras clave:
Cistopatía diabética, urodinamia, reflejo miccional, síntomas obstructivos, síntomas urinarios, tratamiento cistopatía,
Resumen
El término cistopatía diabética describe el aumento de la capacidad de la vejiga y los volúmenes residuales postmiccionales en pacientes diabéticos, acompañado de disminución de la sensación y contracción vesical, atribuida a la neuropatía diabética. La cistopatía diabética es principalmente una enfermedad originada por una neuropatía, de origen sensorial y autonómica por las alteraciones que sufre en la fibras nerviosas; en este articulo se revisaran las múltiples teorías acerca de la fisiopatología. Los pacientes cursan con una sintomatología insidiosa y cuando es detectable se encuentra en una fase avanzada, el principal síntoma es la incontinencia urinaria. Su diagnóstico se establece mediante la presentación clínica asociada a sintomatología neurológica y se confirma con estudios de urodinamia. El control estricto y apego al tratamiento de DM2, es la piedra angular para evitar complicaciones a largo plazo, entre ellas la "Cistopatía Diabética". Si ya esta establecida la enfermedad el tratamiento farmacológico esta indicado, con una amplia gama de fármacos a elegir; si no es candidato a terapia farmacológica o presenta sintomatología severa el manejo es quirúrgico con varias opciones quirúrgicas como la denervación vesical o la miomectomía.
Citas
Liu G, Daneshgari F. Diabetic Bladder Dysfunction. Chinese medical journal. 2014;127:1357–64. doi: 10.3760/cma.j.issn.0366-6999.20132407
Oger-Roussel S, Behr-Roussel D, Caisey S, Kergoat M, Charon C, Audet A, et al. Bladder and erectile dysfunctions in the Type 2 diabetic Goto-Kakizaki rat. American Journal of Physiology-Regulatory, Integrative and Comparative Physiology. 2013;306(2):R108–17. doi: 10.1152/ajpregu.00033.2013
Gomez CS, Kanagarajah P, Gousse AE. Bladder dysfunction in patients with diabetes. Curr Urol Rep. 2011;12(6):419–26. doi: 10.1007/s11934-011-0214-0
.
Guariguata L, Whiting DR, Hambleton I, Beagley J, Linnenkamp U, Shaw JE. Global estimates of diabetes prevalence for 2013 and projections for 2035. Diabetes Res Clin Pract. 2014;103(2):137–49. doi: 10.1016/j.diabres.2013.11.002
Institute for Health Metrics and Evaluation. GBD Compare 2016. Washington, D.C: University of Washington; 2017.
Instituto Nacional de Estadística y Geografía. Comunicado de prensa núm 525/18. Mexico; 2018.
Arrellano-Valdez F, Urrutia-Osorio M, Arroyo C, Soto-Vega E. A comprehensive review of urologic complications in patients with diabetes. Springerplus. 2014;3:549. doi: 10.1186/2193-1801-3-549
Lin Tl, Chen Gd, Chen Yc, Huang Cn, Ng Sc. Aging and recurrent urinary tract infections are associated with bladder dysfunction in type 2 diabetes. Taiwan J Obstet Gynecol. 2012;51(3):381–6. doi: 10.1016/j.tjog.2012.07.011
Karoli R, Bhat S, Fatima J, Priya S. A study of bladder dysfunction in women with type 2 diabetes mellitus. Indian J Endocrinol Metab. 2014;18(4):552–7. doi: 10.4103/2230-8210.137518
Burakgazi AZ, Alsowaity B, Burakgazi ZA, Unal D, Kelly JJ. Bladder dysfunction in peripheral neuropathies. Muscle Nerve. 2012;45(1):2–8. doi: 10.1002/mus.22178
Dixon JS, Gosling JA. Histology and fine structure of the muscularis mucosae of the human urinary bladder. J Anat. 1983;136(Pt 2):265–71.
de Groat WC, Yoshimura N. Mechanisms underlying the recovery of lower urinary tract function following spinal cord injury. Weaver LC, Polosa C, editors. Progress in Brain Research. 2006; 152:59–84. doi: 10.1016/S0079-6123(05)52005-3
Morrison J, Birder L, Craggs M. Control neural. In: Incontinencia. Reino Unido: Health Publication Ltd; 2005.
Fowler CJ, Griffiths D, de Groat WC. The neural control of micturition. Nat Rev Neurosci. 2008 Jun;9(6):453–66. doi: 10.1038/nrn2401
Thor KB, de Groat WC. Neural control of the female urethral and anal rhabdosphincters and pelvic floor muscles. American Journal of Physiology-Regulatory, Integrative and Comparative Physiology. 2010;299(2):R416–38. doi: 10.1152/ajpregu.00111.2010
Golabek T, Kiely E, O'Reilly B. Detrusor overactivity in diabetic and non-diabetic patients: is there a difference? International braz j urol. 2012;38(5):652–60. doi: 10.1590/S1677-55382012000500010
Hanna-Mitchell AT, Ruiz GW, Daneshgari F, Liu G, Apodaca G, Birder LA. Impact of diabetes mellitus on bladder uroepithelial cells. Am J Physiol Regul Integr Comp Physiol. 2013;304(2):R84-93. doi: 10.1152/ajpregu.00129.2012
Xiao N, Wang Z, Huang Y, Daneshgari F, Liu G. Roles of Polyuria and Hyperglycemia on Bladder Dysfunction in Diabetes. J Urol. 2013;189(3):1130–6. doi: 10.1016/j.juro.2012.08.222
Abrams P, Cardozo L, Fall M, Griffiths D, Rosier P, Ulmsten U, et al. The standardisation of terminology of lower urinary tract function: report from the Standardisation Sub-committee of the International Continence Society. Neurourol Urodyn. 2002;21(2):167–78. doi: 10.1002/nau.10052
van Waalwijk van Doorn E, Anders K, Khullar V, Kulseng-Hanssen S, Pesce F, Robertson A, et al. Standardisation of ambulatory urodynamic monitoring: Report of the Standardisation Sub-Committee of the International Continence Society for Ambulatory Urodynamic Studies. Neurourol Urodyn. 2000;19(2):113–25. doi: 10.1002/(sici)1520-6777(2000)19:2<113::aid-nau2>3.0.co;2-#
Panigrahy R, Singh B, Das SK. Diabetic uropathy and bladder dysfunctions. Diabetes Metab Syndr. 2017;11(1):81–2. doi: 10.1016/j.dsx.2016.06.018
Katzung BG. Basic and Clinical Pharmacology 9. 9th edition. Singapore: McGraw-Hill Publishing Co.; 2004.
James R, Hijaz A. Lower urinary tract symptoms in women with diabetes mellitus: a current review. Curr Urol Rep. 2014;15(10):440. doi: 10.1007/s11934-014-0440-3
Kirschner‐Hermanns R, Daneshgari F, Vahabi B, Birder L, Oelke M, Chacko S. Does diabetes mellitus-induced bladder remodeling affect lower urinary tract function?: ICI-RS 2011. Neurourology and Urodynamics. 2012;31(3):359–64. doi: https://doi.org/10.1002/nau.22228
Bansal R, Agarwal MM, Modi M, Mandal AK, Singh SK. Urodynamic profile of diabetic patients with lower urinary tract symptoms: association of diabetic cystopathy with autonomic and peripheral neuropathy. Urology. 2011;77(3):699–705. doi: 10.1016/j.urology.2010.04.062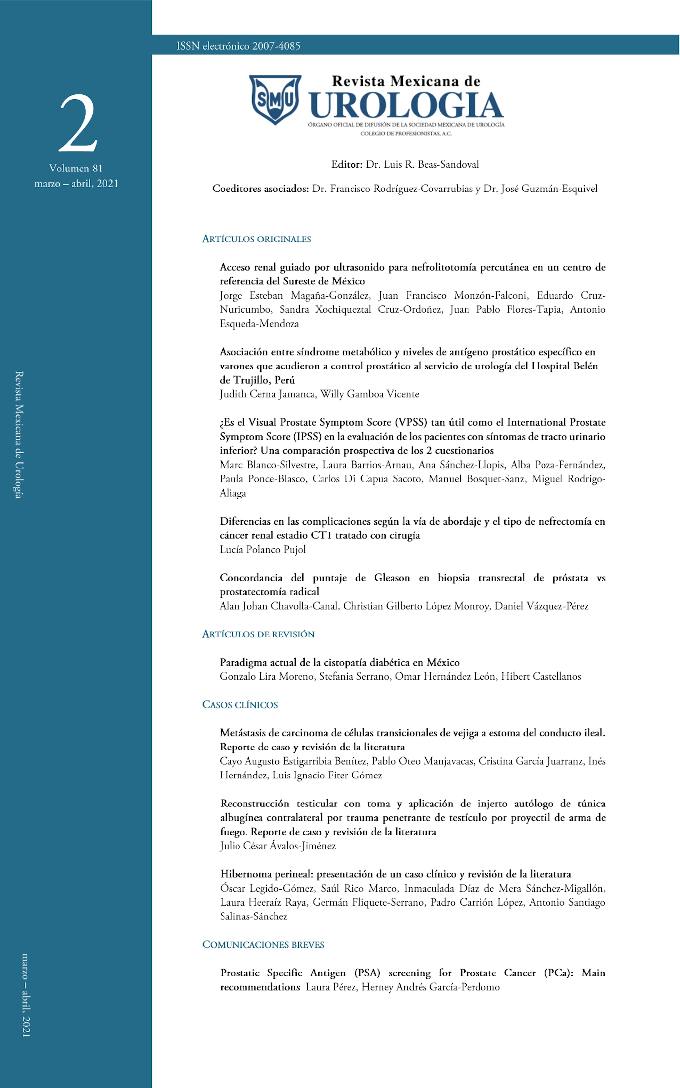 Sección
Artículos de revisión