COVID-19 (SARS-CoV-2): el legado de la enfermedad a la urología
Juan Eduardo Sánchez-Núñez

Secretaría de Salud, Hospital General de México "Dr. Eduardo Liceaga". Ciudad de México; México

https://orcid.org/0000-0002-2013-8248

Luis Antonio Reyes-Vallejo

Hospital Médica Sur. Ciudad de México, México

Jesús Emmanuel Rosas-Nava

Secretaría de Salud, Hospital General de México "Dr. Eduardo Liceaga". Ciudad de México; México

https://orcid.org/0000-0001-7927-241X
Palabras clave:
Urología, Impacto sanitario, COVID-19
Resumen
¿Tendremos la capacidad individual y colectiva para restablecer la "normalidad" en la Urología? La historia dicta que nos sobrepondremos y a pesar del gran impacto negativo que la enfermedad logrará, la medicina no sólo saldrá avante, sino que será una excelente oportunidad de reinvención y evolución.
Citas
Lu H, Stratton CW, Tang Y-W. Outbreak of pneumonia of unknown etiology in Wuhan, China: The mystery and the miracle. J Med Virol. 2020;92(4):401–2. doi: 10.1002/jmv.25678
Chen N, Zhou M, Dong X, Qu J, Gong F, Han Y, et al. Epidemiological and clinical characteristics of 99 cases of 2019 novel coronavirus pneumonia in Wuhan, China: a descriptive study. The Lancet. 2020;395(10223):507–13. doi: 10.1016/S0140-6736(20)30211-7
Huang C, Wang Y, Li X, Ren L, Zhao J, Hu Y, et al. Clinical features of patients infected with 2019 novel coronavirus in Wuhan, China. The Lancet. 2020;395(10223):497–506. doi: 10.1016/S0140-6736(20)30183-5
Martini M, Gazzaniga V, Bragazzi NL, Barberis I. The Spanish Influenza Pandemic: a lesson from history 100 years after 1918. J Prev Med Hyg. 2019;60(1):E64–7. doi: 10.15167/2421-4248/jpmh2019.60.1.1205
Emanuel EJ. The lessons of SARS. Ann Intern Med. 2003;139(7):589–91. doi: 10.7326/0003-4819-139-7-200310070-00011
Chang H-J, Huang N, Lee C-H, Hsu Y-J, Hsieh C-J, Chou Y-J. The Impact of the SARS Epidemic on the Utilization of Medical Services: SARS and the Fear of SARS. Am J Public Health. 2004;94(4):562–4.
Córdova-Villalobos JA, Sarti E, Arzoz-Padrés J, Manuell-Lee G, Méndez JR, Kuri-Morales P. The influenza A(H1N1) epidemic in Mexico. Lessons learned. Health Res Policy Syst. 2009;7. doi: 10.1186/1478-4505-7-21
Khan A, Farooqui A, Guan Y, Kelvin DJ. Lessons to learn from MERS-CoV outbreak in South Korea. J Infect Dev Ctries. 2015;9(6):543–6. doi: 10.3855/jidc.7278
Delamou A, Delvaux T, El Ayadi AM, Beavogui AH, Okumura J, Van Damme W, et al. Public health impact of the 2014-2015 Ebola outbreak in West Africa: seizing opportunities for the future. BMJ Glob Health. 2017;2(2):e000202. doi: 10.1136/bmjgh-2016-000202
Sohrabi C, Alsafi Z, O'Neill N, Khan M, Kerwan A, Al-Jabir A, et al. World Health Organization declares global emergency: A review of the 2019 novel coronavirus (COVID-19). International Journal of Surgery. 2020;76:71–6. doi: 10.1016/j.ijsu.2020.02.034
Ahmed K, Hayat S, Dasgupta P. Global challenges to urology practice during COVID-19 pandemic. BJU Int. 2020; doi: 10.1111/bju.15082
Chan M-C, Yeo SEK, Chong Y-L, Lee Y-M. Stepping Forward: Urologists' Efforts During the COVID-19 Outbreak in Singapore. European Urology. 2020;0(0). doi: 10.1016/j.eururo.2020.03.004
Ficarra V, Novara G, Abrate A, Bartoletti R, Crestani A, De Nunzio C, et al. Urology practice during COVID-19 pandemic. Minerva Urol Nefrol. 2020; doi: 10.23736/S0393-2249.20.03846-1
Rosevear H. COVID-19 and urology: What you can do. Urology Times. 2020 Mar 16. Available from: https://www.urologytimes.com/article/covid-19-and-urology-what-you-can-do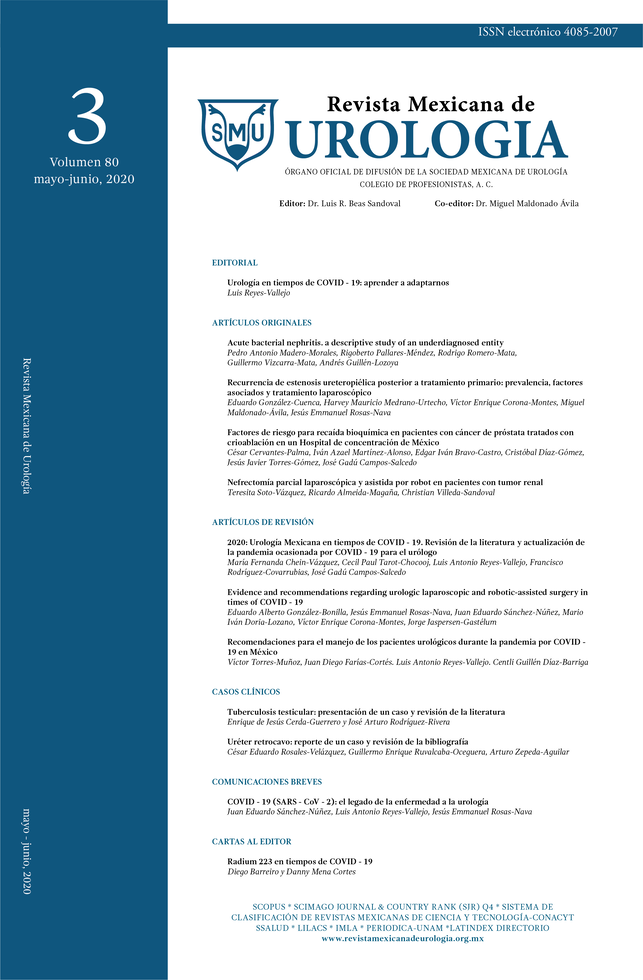 Sección
Comunicaciones breves