Resistencia antibiótica y agentes beta-lactamasa de espectro extendido en las infecciones del tracto urinario: un problema grave en el norte de México
Palabras clave:
Betalactamasa de espectro extendido, infecciones del tracto urinario, Resistencia a antibióticos, urocultivo
Resumen
Objetivo: Describir los agentes causales, la prevalencia de resistencia a antibióticos y determinar factores de riesgo asociados con agentes productores de betalactamasa de espectro extendido (BLEE) en las infecciones del tracto urinario (ITU).
Materiales y métodos: Realizamos una cohorte retrospectiva en un hospital de III Nivel en Monterrey, México. Se incluyeron pacientes con clínica de ITU de marzo a octubre del 2017 con urocultivo positivo. Se determinó la asociación con agentes productores de BLEE, utilizando la prueba Χ2 para variables categóricas y la prueba T para variables continuas. La significancia estadística se estableció en p <0.05 utilizando SPSS versión 20.0.
Resultados: 353 urocultivos positivos fueron recabados. La producción de BLEE se encontró en 21.5%. Altas resistencias a amoxicilina-clavulanato (75%) y moderada resistencia a gentamicina, aztreonam, ceftriaxona, ciprofloxacina, levofloxacina, fosfomicina y trimetoprima-sulfametoxazol fueron encontradas. Los agentes BLEE se asociaron con ITU complicada (p = <0.0001) y se asociaron con DM2 (p = 0.02), inmunodeficiencia (p = 0.008), radioterapia (p = 0.025) y uso previo de antibióticos (p = <0.001).
Limitaciones: La relación clonal de los aislamientos, especialmente de E. coli, no se analizó. No podemos establecer si hubo diversidad genética entre los aislamientos y si ocurrió adquisición independiente o transmisión cruzada.
Valor: Evaluamos las características epidemiológicas de los agentes productores de BLEE en ITU en un hospital de III Nivel de México.
Conclusiones: Una de cada cinco ITU es causada por agentes BLEE en nuestra población. Existe una alta resistencia a los antibióticos usados como terapia empírica en nuestra población.
Citas
Foxman B. The epidemiology of urinary tract infection. Nature Reviews Urology. 2010 Dec;7(12):653–60. doi: https://doi.org/10.1038/nrurol.2010.190
Litwin Mark S., Saigal Christopher S., Yano Elizabeth M., Avila Chantal, Geschwind Sandy A., Hanley Jan M., et al. Urologic diseases in america project: analytical methods and principal findings. Journal of Urology. 2005 Mar 1;173(3):933–7. doi: https://doi.org/10.1097/01.ju.0000152365.43125.3b
Secretaría de Salud. Información Epidemiológica de Morbilidad. SUIVE/DGE/Secretaría de Salud/Estados Unidos Mexicanos 2017. 2017. [accessed 25 Apr 2020] Available from: https://www.gob.mx/salud/acciones-y-programas/anuarios-de-morbilidad-1984-2018
Grabe M, Bjerklund-Johansen TE, Botto H, Çek M, Naber KG, Tenke P, et al. Guidelines on urological infections. European association of urology. 2015;182.
Naber KG, Schito G, Botto H, Palou J, Mazzei T. Surveillance study in Europe and Brazil on clinical aspects and Antimicrobial Resistance Epidemiology in Females with Cystitis (ARESC): implications for empiric therapy. Eur Urol. 2008 Nov;54(5):1164–75. doi: https://doi.org/10.1016/j.eururo.2008.05.010
Nicolle LE. A Practical Guide to the Management of Complicated Urinary Tract Infection. Drugs. 1997 Apr 1;53(4):583–92. doi: https://doi.org/10.2165/00003495-199753040-00004
Laupland KB, Ross T, Pitout JDD, Church DL, Gregson DB. Community-onset Urinary Tract Infections: A Population-based Assessment. Infection. 2007 Jun 1;35(3):150. doi: https://doi.org/10.1007/s15010-007-6180-2
Boucher HW, Talbot GH, Bradley JS, Edwards JE, Gilbert D, Rice LB, et al. Bad Bugs, No Drugs: No ESKAPE! An Update from the Infectious Diseases Society of America. Clin Infect Dis. 2009 Jan 1;48(1):1–12. doi: https://doi.org/10.1086/595011
Zowawi HM, Harris PNA, Roberts MJ, Tambyah PA, Schembri MA, Pezzani MD, et al. The emerging threat of multidrug-resistant Gram-negative bacteria in urology. Nature Reviews Urology. 2015 Oct;12(10):570–84. doi: https://doi.org/10.1038/nrurol.2015.199
Tal Jasper R, Coyle JR, Katz DE, Marchaim D. The complex epidemiology of extended-spectrum β-lactamase-producing Enterobacteriaceae. Future Microbiology. 2015 May 1;10(5):819–39. doi: https://doi.org/10.2217/fmb.15.16
Calbo E, Romaní V, Xercavins M, Gómez L, Vidal CG, Quintana S, et al. Risk factors for community-onset urinary tract infections due to Escherichia coli harbouring extended-spectrum β-lactamases. J Antimicrob Chemother. 2006 Apr 1;57(4):780–3. doi: 10.1093/jac/dkl035
Rodríguez-Baño J, Navarro MD, Romero L, Muniain MA, Perea EJ, Pérez-Cano R, et al. Clinical and Molecular Epidemiology of Extended-Spectrum β -Lactamase—Producing Escherichia coli as a Cause of Nosocomial Infection or Colonization: Implications for Control. Clin Infect Dis. 2006 Jan 1;42(1):37–45. doi: https://doi.org/10.1086/498519
Briongos‐Figuero LS, Gómez‐Traveso T, Bachiller‐Luque P, González MD-G, Gómez‐Nieto A, Palacios‐Martín T, et al. Epidemiology, risk factors and comorbidity for urinary tract infections caused by extended-spectrum beta-lactamase (ESBL)-producing enterobacteria. International Journal of Clinical Practice. 2012;66(9):891–6. doi: https://doi.org/10.1111/j.1742-1241.2012.02991.x
Saltoglu N, Karali R, Yemisen M, Ozaras R, Balkan II, Mete B, et al. Comparison of community-onset healthcare-associated and hospital-acquired urinary infections caused by extended-spectrum beta-lactamase-producing Escherichia coli and antimicrobial activities. International Journal of Clinical Practice. 2015;69(7):766–70. doi: https://doi.org/10.1111/ijcp.12608
Clinical & Laboratory Standards Institute (CLSI). M100Ed30 | Performance Standards for Antimicrobial Susceptibility Testing, 30th Edition. Wayne, Pennsylvania, USA.; 2017. [accessed 25 Apr 2020] Available from: https://clsi.org/standards/products/microbiology/documents/m100/
Blanco VM, Maya JJ, Correa A, Perenguez M, Muñoz JS, Motoa G, et al. [Prevalence and risk factors for extended-spectrum β-lactamase-producing Escherichia coli causing community-onset urinary tract infections in Colombia]. Enferm Infecc Microbiol Clin. 2016 Nov;34(9):559–65. doi: https://doi.org/10.1016/j.eimc.2015.11.017
Medina-Polo J, Arrébola-Pajares A, Pérez-Cadavid S, Benítez-Sala R, Sopeña-Sutil R, Lara-Isla A, et al. Extended-Spectrum Beta-Lactamase-Producing Bacteria in a Urology Ward: Epidemiology, Risk Factors and Antimicrobial Susceptibility Patterns. UIN. 2015;95(3):288–92. doi: https://doi.org/10.1159/000439441
Hernández-Vergara JA, Martínez-Santos VI, Radilla-Vázquez RB, Silva-Sánchez J, Vences-Velásquez A, Castro-Alarcón N. Characterization of Escherichia coli clinical isolates causing urinary tract infections in the community of Chilpancingo, Mexico. Int Microbiol. 2016 Dec;19(4):209–15. doi: https://doi.org/10.2436/20.1501.01.279
Cornejo-Dávila V, Palmeros-Rodríguez MA, Uberetagoyena-Tello de Meneses I, Mayorga-Gómez E, Garza-Sáinz G, Osornio-Sánchez V, et al. Management of complicated urinary tract infections in a referral center in Mexico. Int Urol Nephrol. 2015 Feb 1;47(2):229–33. doi: https://doi.org/10.1007/s11255-014-0883-y
Colodner R, Rock W, Chazan B, Keller N, Guy N, Sakran W, et al. Risk Factors for the Development of Extended-Spectrum Beta-Lactamase-Producing Bacteria in Nonhospitalized Patients. Eur J Clin Microbiol Infect Dis. 2004 Mar 1;23(3):163–7. doi: https://doi.org/10.1007/s10096-003-1084-2
Ben-Ami R, Rodríguez-Baño J, Arslan H, Pitout JDD, Quentin C, Calbo ES, et al. A Multinational Survey of Risk Factors for Infection with Extended-Spectrum β-Lactamase-Producing Enterobacteriaceae in Nonhospitalized Patients. Clin Infect Dis. 2009 Sep 1;49(5):682–90. doi: https://doi.org/10.1086/604713
Alcántar-Curiel MD, Alpuche-Aranda CM, Varona-Bobadilla HJ, Gayosso-Vázquez C, Jarillo-Quijada MaD, Frías-Mendivil M, et al. Risk factors for extended-spectrum b-lactamases-producing Escherichia coli urinary tract infections in a tertiary hospital. Salud Publica Mex. 2015 Sep 12;57(5):412. doi: http://dx.doi.org/10.21149/spm.v57i5.7621
Lee DS, Lee CB, Lee S-J. Prevalence and Risk Factors for Extended Spectrum Beta-Lactamase-Producing Uropathogens in Patients with Urinary Tract Infection. Korean Journal of Urology. 2010 Jul 1;51(7):492–7. doi: https://doi.org/10.4111/kju.2010.51.7.492
Gupta K, Hooton TM, Naber KG, Wullt B, Colgan R, Miller LG, et al. International Clinical Practice Guidelines for the Treatment of Acute Uncomplicated Cystitis and Pyelonephritis in Women: A 2010 Update by the Infectious Diseases Society of America and the European Society for Microbiology and Infectious Diseases. Clin Infect Dis. 2011 Mar 1;52(5):e103–20. doi: https://doi.org/10.1093/cid/ciq257
Vardakas KZ, Legakis NJ, Triarides N, Falagas ME. Susceptibility of contemporary isolates to fosfomycin: a systematic review of the literature. Int J Antimicrob Agents. 2016 Apr;47(4):269–85. doi: https://doi.org/10.1016/j.ijantimicag.2016.02.001
Sorlozano A, Jimenez-Pacheco A, de Dios Luna Del Castillo J, Sampedro A, Martinez-Brocal A, Miranda-Casas C, et al. Evolution of the resistance to antibiotics of bacteria involved in urinary tract infections: a 7-year surveillance study. Am J Infect Control. 2014 Oct;42(10):1033–8. doi: https://doi.org/10.1016/j.ajic.2014.06.013
Salles MJC, Zurita J, Mejía C, Villegas MV. Resistant Gram-negative infections in the outpatient setting in Latin America. Epidemiology & Infection. 2013 Dec;141(12):2459–72. doi: https://doi.org/10.1017/S095026881300191X
Andrade SS, Sader HS, Jones RN, Pereira AS, Pignatari AC, Gales AC. Increased resistance to first-line agents among bacterial pathogens isolated from urinary tract infections in Latin America: time for local guidelines? Memórias do Instituto Oswaldo Cruz. 2006 Nov;101(7):741–8. doi: https://doi.org/10.1590/S0074-02762006000700006
Brennan TA, Rothman DJ, Blank L, Blumenthal D, Chimonas SC, Cohen JJ, et al. Health Industry Practices That Create Conflicts of Interest: A Policy Proposal for Academic Medical Centers. JAMA. 2006 Jan 25;295(4):429–33. doi: https://doi.org/10.1001/jama.295.4.429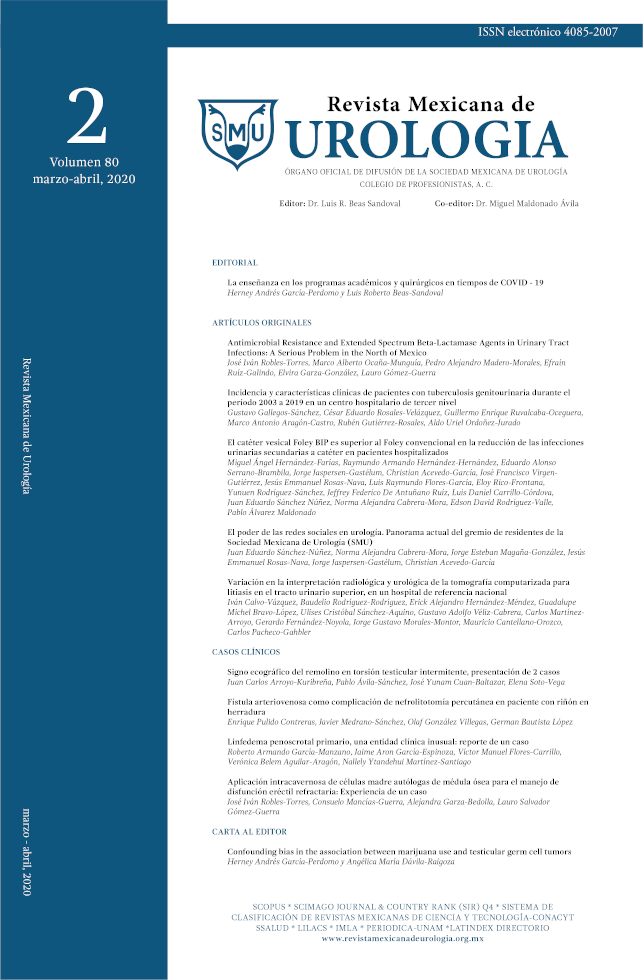 Sección
Artículos originales