Manejo conservador en trauma renal contuso. Algunas recomendaciones para recordar
Palabras clave:
Trauma, renal, contuso, manejo, conservador
Resumen
Descripción resumida del tema: El manejo en trauma renal contuso se basa en la vigilancia clínica y paraclínica durante las primeras 24 horas. La imagen de elección es la tomografía axial computarizada (TAC) de 3 fases. Se debe tomar en todo paciente con sospecha clínica de trauma renal y repetir sólo en caso de deterioro clínico. En pacientes con factores de riesgo para trombosis, se debe utilizar profilaxis o medias de compresión neumática en caso de contraindicación al uso de heparinas.  No se ha llegado a consenso definitivo sobre el uso de antibioticoterapia, sin embargo, se recomienda en pacientes con signos de infección aguda.
Relevancia: El trauma renal es una enfermedad con una prevalencia importante a nivel mundial y en nuestro medio, presente en el 5% de los pacientes de trauma. Dadas las recomendaciones basadas en evidencia escasa, se prefiere el manejo conservador, incluso en pacientes con traumas de alto grado.
Conclusiones: Se recomienda el manejo conservador del trauma renal contuso grado I-IV. Aún existe controversia sobre el trauma renal grado V. Se sugiere evitar la profilaxis antibiótica dada la baja tasa de infección y se indica el uso de antibiótico en presencia de signos clínicos de infección.
Citas
Schmidlin F, Farshad M, Bidaut L, Barbezat M, Becker C, Niederer P, et al. Biomechanical analysis and clinical treatment of blunt renal trauma. Swiss Surg. 1998;(5):237–43.
Erlich T, Kitrey ND. Renal trauma: the current best practice. Ther Adv Urol. 2018;10(10):295–303. doi: 10.1177/1756287218785828
Voelzke BB, Leddy L. The epidemiology of renal trauma. Transl Androl Urol. 2014;3(2):143–9. doi: 10.3978/j.issn.2223-4683.2014.04.11
García HA, Urrea MF, Serna A, Aluma LJ. Experiencia clínica en el manejo del traumatismo renal en el Hospital Universitario del Valle (Cali, Colombia). Actas Urológicas Españolas. 2009;33(8):881–7.
Heyns C f. Renal trauma: indications for imaging and surgical exploration. BJU International. 2004;93(8):1165–70. doi: 10.1111/j.1464-410X.2004.04868.x
van der Wilden GM, Velmahos GC, Joseph DK, Jacobs L, Debusk MG, Adams CA, et al. Successful nonoperative management of the most severe blunt renal injuries: a multicenter study of the research consortium of New England Centers for Trauma. JAMA Surg. 2013;148(10):924–31. doi: 10.1001/jamasurg.2013.2747
McGuire J, Bultitude MF, Davis P, Koukounaras J, Royce PL, Corcoran NM. Predictors of outcome for blunt high-grade renal injury treated with conservative intent. J Urol. 2011;185(1):187–91. doi: 10.1016/j.juro.2010.08.085
McCombie SP, Thyer I, Corcoran NM, Rowling C, Dyer J, Le Roux A, et al. The conservative management of renal trauma: a literature review and practical clinical guideline from Australia and New Zealand. BJU Int. 2014;114 Suppl 1:13–21. doi: 10.1111/bju.12902
Yang C, Chen I, Wang C, Liu C, Shih H, Huang M. Predictive indications of operation and mortality following renal trauma. J Chin Med Assoc. 2011 24;75(1):21–4. doi: 10.1016/j.jcma.2011.11.002
Shoobridge JJ, Corcoran NM, Martin KA, Koukounaras J, Royce PL, Bultitude MF. Contemporary management of renal trauma. Rev Urol. 2011;13(2):65–72.
Long J-A, Fiard G, Descotes J-L, Arnoux V, Arvin-Berod A, Terrier N, et al. High-grade renal injury: non-operative management of urinary extravasation and prediction of long-term outcomes. BJU Int. 2013;111(4 Pt B):E249-255. doi: 10.1111/j.1464-410X.2012.11578.x
Malcolm JB, Derweesh IH, Mehrazin R, DiBlasio CJ, Vance DD, Joshi S, et al. Nonoperative management of blunt renal trauma: is routine early follow-up imaging necessary? BMC Urol. 2008;8:11. doi: 10.1186/1471-2490-8-11
Al-Qudah HS, Santucci RA. Complications of renal trauma. Urol Clin North Am. 2006;33(1):41–53, vi. doi: 10.1016/j.ucl.2005.10.005
Santucci RA, Bartley JM. Urologic trauma guidelines: a 21st century update. Nat Rev Urol. 2010;7(9):510–9. doi: 10.1038/nrurol.2010.119
Djakovic N, Kitrey N, Hallscheidt P, Kuehhas F, Lumen N, Serafetinidis E. Urological Trauma. European Association of Urology Guidelines; 2020.
Lynch TH, Martínez-Piñeiro L, Plas E, Serafetinides E, Türkeri L, Santucci RA, et al. EAU guidelines on urological trauma. Eur Urol. 2005;47(1):1–15. doi: 10.1016/j.eururo.2004.07.028
Bryk DJ, Zhao LC. Guideline of guidelines: a review of urological trauma guidelines. BJU Int. 2016;117(2):226–34. doi: 10.1111/bju.13040
Kawashima A, Sandler CM, Corl FM, West OC, Tamm EP, Fishman EK, et al. Imaging of renal trauma: a comprehensive review. Radiographics. 2001(3):557–74. doi: 10.1148/radiographics.21.3.g01ma11557
Fischer W, Wanaselja A, Steenburg SD. JOURNAL CLUB: Incidence of Urinary Leak and Diagnostic Yield of Excretory Phase CT in the Setting of Renal Trauma. AJR Am J Roentgenol. 2015;204(6):1168–72; quiz 1173. doi: 10.2214/AJR.14.13643
Santucci RA, Wessells H, Bartsch G, Descotes J, Heyns CF, McAninch JW, et al. Evaluation and management of renal injuries: consensus statement of the renal trauma subcommittee. BJU Int. 2004;93(7):937–54. doi: 10.1111/j.1464-4096.2004.04820.x
Kozar RA, Crandall M, Shanmuganathan K, Zarzaur BL, Coburn M, Cribari C, et al. Organ injury scaling 2018 update: Spleen, liver, and kidney. J Trauma Acute Care Surg. 2018;85(6):1119–22. doi: 10.1097/TA.0000000000002058
Santucci RA, McAninch JW, Safir M, Mario LA, Service S, Segal MR. Validation of the American Association for the Surgery of Trauma organ injury severity scale for the kidney. J Trauma. 2001;50(2):195–200. doi: 10.1097/00005373-200102000-00002
Broghammer JA, Fisher MB, Santucci RA. Conservative management of renal trauma: a review. Urology. 2007;70(4):623–9. doi: 10.1016/j.urology.2007.06.1085
Morey AF, Brandes S, Dugi DD, Armstrong JH, Breyer BN, Broghammer JA, et al. Urotrauma: AUA guideline. J Urol. 2014;192(2):327–35. doi: 10.1016/j.juro.2014.05.004
Blankenship JC, Gavant ML, Cox CE, Chauhan RD, Gingrich JR. Importance of delayed imaging for blunt renal trauma. World J Surg. 2001;25(12):1561–4. doi: 10.1007/s00268-001-0150-0
Breen KJ, Sweeney P, Nicholson PJ, Kiely EA, O'Brien MF. Adult blunt renal trauma: routine follow-up imaging is excessive. Urology. 2014;84(1):62–7. doi: 10.1016/j.urology.2014.03.013
Shirazi M, Sefidbakht S, Jahanabadi Z, Asadolahpour A, Afrasiabi MA. Is early reimaging CT scan necessary in patients with grades III and IV renal trauma under conservative treatment? J Trauma. 2010;68(1):9–12. doi: 10.1097/TA.0b013e3181ad5835
Buckley JC, McAninch JW. Pediatric renal injuries: management guidelines from a 25-year experience. J Urol. 2004;172(2):687–90; discussion 690. doi: 10.1097/01.ju.0000129316.42953.76
Holmes JH, Wiebe DJ, Tataria M, Mattix KD, Mooney DP, Scaife ER, et al. The failure of nonoperative management in pediatric solid organ injury: a multi-institutional experience. J Trauma. 2005;59(6):1309–13. doi: 10.1097/01.ta.0000197366.38404.79
Knudson MM, Ikossi DG. Venous thromboembolism after trauma. Curr Opin Crit Care. 2004;10(6):539–48. doi: 10.1097/01.ccx.0000144941.09650.9f
Tank ES, Eraklis AJ, Gross RE. Blunt abdominal trauma in infancy and childhood. J Trauma. 1968;8(3):439–48. doi: 10.1097/00005373-196805000-00010
Ahmed S, Morris LL. Renal Parenchymal Injuries Secondary to Blunt Abdominal Trauma in Childhood: a 10-year Review. British Journal of Urology. 1982;54(5):470–7. doi: 10.1111/j.1464-410X.1982.tb13567.x
Nance ML, Lutz N, Carr MC, Canning DA, Stafford PW. Blunt Renal Injuries in Children Can Be Managed Nonoperatively: Outcome in a Consecutive Series of Patients: The Journal of Trauma: Injury, Infection, and Critical Care. 2004;57(3):474–8. doi: 10.1097/01.TA.0000141022.01878.C2
Stylianos S. Evidence-based guidelines for resource utilization in children with isolated spleen or liver injury. The APSA Trauma Committee. J Pediatr Surg. 2000;35(2):164–7; discussion 167-169. doi: 10.1016/s0022-3468(00)90003-4
Alsaywid BS, Alkhashan MY, Alrimawi MH, Abu-Alsaud NM, Al-Rimawi HM. Blunt renal trauma in pediatric population. Urology Annals. 2019;11(3):241. doi: 10.4103/UA.UA_149_18
Broghammer JA, Langenburg SE, Smith SJ, Santucci RA. Pediatric blunt renal trauma: its conservative management and patterns of associated injuries. Urology. 2006;67(4):823–7. doi: 10.1016/j.urology.2005.11.062
Aguayo P, Fraser JD, Sharp S, Holcomb GW, Ostlie DJ, St Peter SD. Nonoperative management of blunt renal injury: a need for further study. J Pediatr Surg. 2010;45(6):1311–4. doi: 10.1016/j.jpedsurg.2010.02.109
Fraser JD, Aguayo P, Ostlie DJ, St Peter SD. Review of the evidence on the management of blunt renal trauma in pediatric patients. Pediatr Surg Int. 2009;25(2):125–32. doi: 10.1007/s00383-008-2316-4
Dalton BGA, Dehmer JJ, Shah SR. Blunt Renal Trauma. J Pediatr Intensive Care. 2015 Mar;04(1):16–20. doi: 10.1055/s-0035-1554984
Graziano KD, Juang D, Notrica D, Grandsoult VL, Acosta J, Sharp SW, et al. Prospective observational study with an abbreviated protocol in the management of blunt renal injury in children. J Pediatr Surg. 2014;49(1):198–200; discussion 200-201. doi: 10.1016/j.jpedsurg.2013.09.053
García-Perdomo HA, Gómez-Puerto DA, Zapata-Copete JA, Manzano-Núñez R. Profilaxis antibiótica en el manejo conservador de los pacientes con trauma renal: ¿Aún existe controversia? Revista Urología Colombiana / Colombian Urology Journal. 2019;28(03):221–5. doi: 10.1055/s-0038-1651510
Moudouni SM, Patard JJ, Manunta A, Guiraud P, Guille F, Lobel B. A conservative approach to major blunt renal lacerations with urinary extravasation and devitalized renal segments. BJU Int. 2001;87(4):290–4. doi: 10.1046/j.1464-410x.2001.00111.x
Bengualid V, Talari G, Rubin D, Albaeni A, Ciubotaru RL, Berger J. Fever in trauma patients: evaluation of risk factors, including traumatic brain injury. Am J Crit Care. 2015;24(2):e1-5. doi: 10.4037/ajcc2015856
Davis P, Bultitude MF, Koukounaras J, Royce PL, Corcoran NM. Assessing the usefulness of delayed imaging in routine followup for renal trauma. J Urol. 2010;184(3):973–7. doi: 10.1016/j.juro.2010.04.070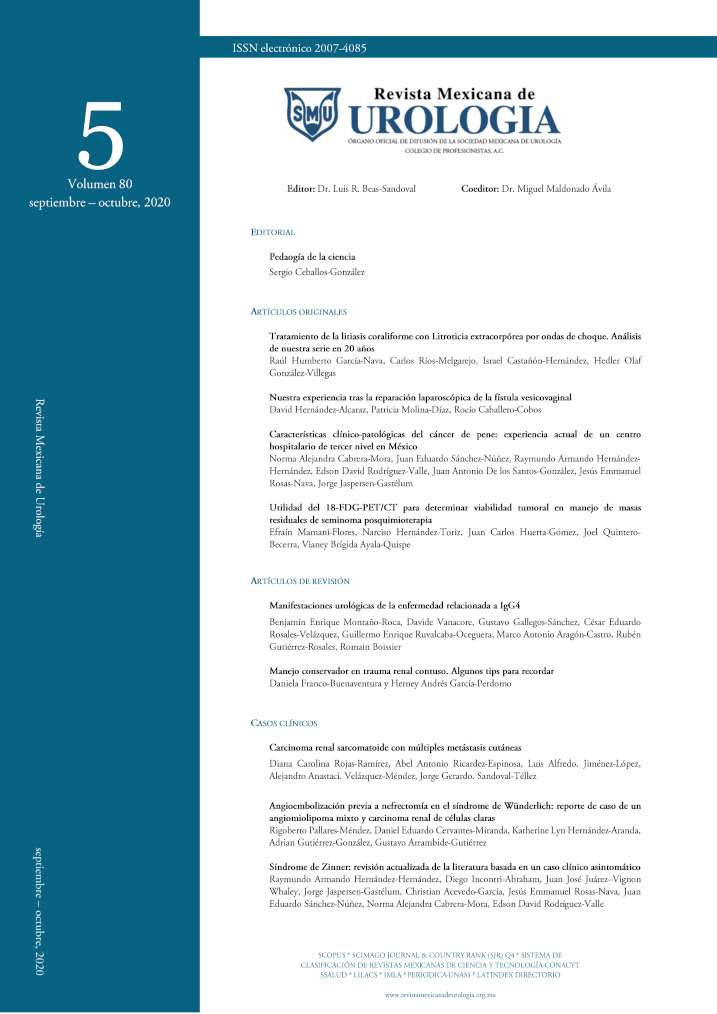 Sección
Artículos de revisión