Nefritis bacteriana aguda. Un estudio descriptivo de una entidad patológica subdiagnosticada
Pedro Antonio Madero-Morales

Universidad Autónoma de Nuevo León, Hospital Universitario "Dr. José Eleuterio González", Nuevo León, México

https://orcid.org/0000-0003-1466-7853

Rigoberto Pallares-Méndez

Universidad Autónoma de Nuevo León, Hospital Universitario "Dr. José Eleuterio González", Nuevo León, México

https://orcid.org/0000-0001-6112-1672

Rodrigo Romero-Mata

Universidad Autónoma de Nuevo León, Hospital Universitario "Dr. José Eleuterio González", Nuevo León, México

Guillermo Vizcarra-Mata

Universidad Autónoma de Nuevo León, Hospital Universitario "Dr. José Eleuterio González", Nuevo León, México

https://orcid.org/0000-0003-4210-7917

Andrés Guillén-Lozoya

Universidad Autónoma de Nuevo León, Hospital Universitario "Dr. José Eleuterio González", Nuevo León, México

https://orcid.org/0000-0001-7186-164X
Palabras clave:
Nefritis bacteriana aguda, pielonefritis aguda, nefritis bacteriana focal, nefritis bacteriana multifocal, absceso renal
Resumen
Introducción: La nefritis bacteriana aguda (NBA) es un proceso infeccioso diagnosticado por medio de estudios de imagen. El curso clínico de la enfermedad ha mostrado ser más agresivo que la pielonefritis aguda y continúa siendo una entidad subdiagnosticada, para la cual sólo pocos estudios han sido reportados.
Objetivo: Describir las características clínicas e imagenológicas, cómo también el curso clínico de la enfermedad.
Diseño: Estudio descriptivo, retrospectivo, serie de casos.
Materiales y métodos: Se revisaron un total de 32 casos de nefritis bacteriana aguda admitidos a hospitalización entre 2009 y 2016. Se registraron las características clínicas al ingreso hospitalario, evolución clínica intrahospitalaria, resultados de cultivo y respuesta a tratamiento antibiótico. Los estudios de imagen fueron revalorados y comprobados para su compatibilidad diagnóstica con nefritis bacteriana aguda, en cualquiera de sus presentaciones; focal o multifocal.
Resultados: Se observó un predominio de mujeres (n=29, 90.62%); las comorbilidades más asociadas fueron diabetes (n=16, 50%) y obesidad (n=9, 28.25%). Los hallazgos clínicos más importantes al ingreso fueron fiebre (n=15, 46.87%) y leucocitosis (n=27, 84.38%). Escherichia coli fue el agente bacteriano mayormente aislado (63.63%). Se observó nefritis bacteriana focal y multifocal en 46.87% (n=15) y 53.13% (n=17), respectivamente. Todos los pacientes requirieron estudios de imagen para su diagnostico.
Conclusión: Los hallazgos principales en nefritis bacteriana aguda son fiebre y leucocitosis. Los estudios de imagen son necesarios para el diagnostico de nefritis bacteriana aguda dado que no es posible diferenciar clínicamente entre pielonefritis y nefritis bacteriana aguda.
Citas
Rosenfield AT, Glickman MG, Taylor KJ, Crade M, Hodson J. Acute focal bacterial nephritis (acute lobar nephronia). Radiology. 1979;132(3):553–61. doi: 10.1148/132.3.553
Uehling DT, Hahnfeld LE, Scanlan KA. Urinary tract abnormalities in children with acute focal bacterial nephritis. BJU Int. 2000;85(7):885–8. doi: 10.1046/j.1464-410x.2000.00622.x
Cheng C-H, Tsau Y-K, Lin T-Y. Effective duration of antimicrobial therapy for the treatment of acute lobar nephronia. Pediatrics. 2006;117(1):e84-89. doi: 10.1542/peds.2005-0917
Cano Sch F, Strodthoff R P, Muñoz A O. Nefritis Aguda Focal: Caso Clínico. Revista chilena de pediatría. 2010;81(3):247–52. doi: 10.4067/S0370-41062010000300008
Sieger N, Kyriazis I, Schaudinn A, Kallidonis P, Dietel A, Ganzer R, et al. Acute Focal Bacterial Nephritis Can Lead to Unnecessary Invasive Procedures: A Report of Three Cases. Urol Int. 2017;99(2):245–8. doi: 10.1159/000441955
Seidel T, Kuwertz-Bröking E, Kaczmarek S, Kirschstein M, Frosch M, Bulla M, et al. Acute focal bacterial nephritis in 25 children. Pediatr Nephrol. 2007;22(11):1897–901. doi: 10.1007/s00467-007-0589-9
Downs SM. Technical report: urinary tract infections in febrile infants and young children. The Urinary Tract Subcommittee of the American Academy of Pediatrics Committee on Quality Improvement. Pediatrics. 1999;103(4):e54. doi: 10.1542/peds.103.4.e54
Rathaus V, Werner M. Acute focal nephritis: its true sonographic face. Isr Med Assoc J. 2007;9(10):729–31.
Farmer KD, Gellett LR, Dubbins PA. The sonographic appearance of acute focal pyelonephritis 8 years' experience. Clin Radiol. 2002;57(6):483–7. doi: 10.1053/crad.2002.0935
Majd M, Nussbaum Blask AR, Markle BM, Shalaby-Rana E, Pohl HG, Park JS, et al. Acute pyelonephritis: comparison of diagnosis with 99mTc-DMSA, SPECT, spiral CT, MR imaging, and power Doppler US in an experimental pig model. Radiology. 2001;218(1):101–8. doi: 10.1148/radiology.218.1.r01ja37101
Cheng C-H, Tsau Y-K, Hsu S-Y, Lee T-L. Effective ultrasonographic predictor for the diagnosis of acute lobar nephronia. Pediatr Infect Dis J. 2004;23(1):11–4. doi: 10.1097/01.inf.0000105202.57991.3e
Granados Molina A, Espino Hernández M, Gancedo Baranda A, Albillos Merino JC, Álvarez-Cortinas JF, Molina Amores C. Nefronía focal aguda bacteriana: diagnóstico, tratamiento y evolución. An Pediatr 2007;66(1):84–6. doi: 10.1157/13097366
Sugao H, Takiuchi H, Sakurai T. Acute focal bacterial nephritis and renal abscess associated with vesicoureteral reflux. Report of a case. Urol Int. 1988;43(4):253–6. doi: 10.1159/000281349
Dembry L-M, Andriole VT. Renal and perirenal abscesses. Infectious Disease Clinics. 1997;11(3):663–80. doi: 10.1016/S0891-5520(05)70379-2
Shimizu M, Katayama K, Kato E, Miyayama S, Sugata T, Ohta K. Evolution of acute focal bacterial nephritis into a renal abscess. Pediatr Nephrol. 2005;20(1):93–5. doi: 10.1007/s00467-004-1646-2
Craig WD, Wagner BJ, Travis MD. Pyelonephritis: Radiologic-Pathologic Review. RadioGraphics. 2008;28(1):255–76. doi: 10.1148/rg.281075171
Garrow JS, Webster J. Quetelet's index (W/H2) as a measure of fatness. Int J Obes. 1985;9(2):147–53.
Association AD. 2. Classification and Diagnosis of Diabetes: Standards of Medical Care in Diabetes—2018. Diabetes Care. 2018;41(Supplement 1):S13–27. doi: 10.2337/dc18-S002
James PA, Oparil S, Carter BL, Cushman WC, Dennison-Himmelfarb C, Handler J, et al. 2014 Evidence-Based Guideline for the Management of High Blood Pressure in Adults: Report From the Panel Members Appointed to the Eighth Joint National Committee (JNC 8). JAMA. 2014;311(5):507–20. doi: 10.1001/jama.2013.284427
Sieger N, Kyriazis I, Schaudinn A, Kallidonis P, Neuhaus J, Liatsikos EN, et al. Acute focal bacterial nephritis is associated with invasive diagnostic procedures - a cohort of 138 cases extracted through a systematic review. BMC Infect Dis. 2017;17(1):240. doi: 10.1186/s12879-017-2336-6
Lee JK, McClennan BL, Melson GL, Stanley RJ. Acute focal bacterial nephritis: emphasis on gray scale sonography and computed tomography. AJR Am J Roentgenol. 1980;135(1):87–92. doi: 10.2214/ajr.135.1.87
National Institute for Clinical Excellence. Pyelonephritis (acute): antimicrobial prescribing. England: Public Health England; 2018. 26 p.
Watson JR, Sánchez PJ, Spencer JD, Cohen DM, Hains DS. Urinary Tract Infection and Antimicrobial Stewardship in the Emergency Department. Pediatr Emerg Care. 2018;34(2):93–5. doi: 10.1097/PEC.0000000000000688
Janett S, Milani GP, Faré PB, Renzi S, Giannini O, Bianchetti MG, et al. Pyuria and microbiology in acute bacterial focal nephritis: a systematic review. Minerva med. 2019;110(3):232–7. doi: 10.23736/S0026-4806.19.06002-6
Bonkat G, Bartoletti RR, Bruyère F, Cai T, Geerlings SE, Köves B, et al. Urological Infections EAU Guidelines on urological infections. European Association of Urology; 2018.
Santacruz A, Collado MC, García-Valdés L, Segura MT, Martín-Lagos JA, Anjos T, et al. Gut microbiota composition is associated with body weight, weight gain and biochemical parameters in pregnant women. Br J Nutr. 2010;104(1):83–92. doi: 10.1017/S0007114510000176
Campos-Franco J, Macia C, Huelga E, Diaz-Louzao C, Gude F, Alende R, et al. Acute focal bacterial nephritis in a cohort of hospitalized adult patients with acute pyelonephritis. Assessment of risk factors and a predictive model. Eur J Intern Med. 2017;39:69–74. doi: 10.1016/j.ejim.2016.12.002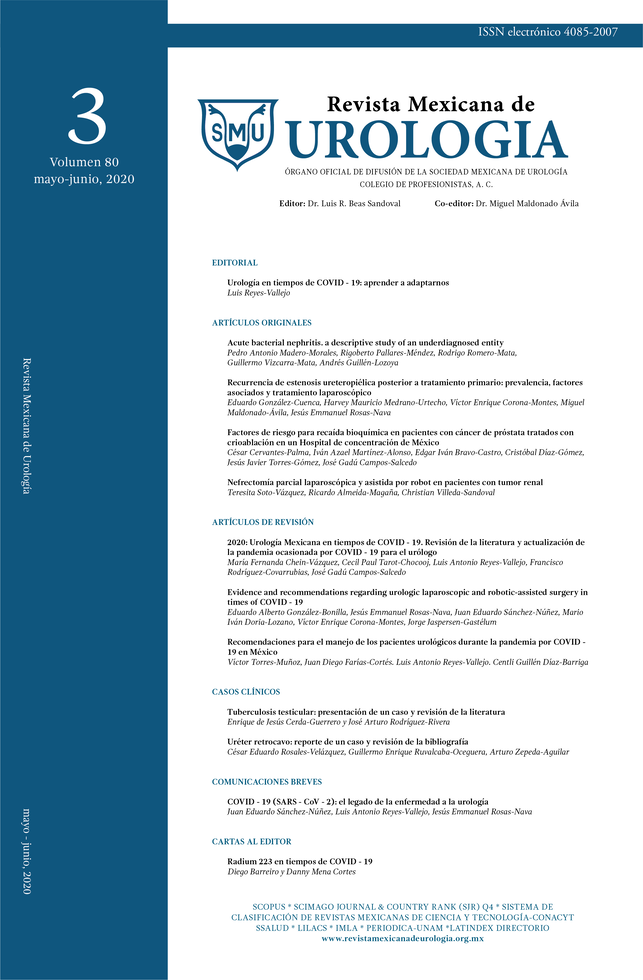 Sección
Artículos originales