Virus del papiloma humano (VPH): microbiología, relación con el cáncer de pene y características de la vacuna
Palabras clave:
Virus de papiloma humano, cáncer de pene, vacuna, carcinogénesis
Resumen
El Virus del Papiloma Humano (VPH) ha sido en las últimas 2 décadas un objeto importante de estudio por su relación causal en el cáncer de cérvix y su asociación como factor de riesgo en neoplasias anogenitales, en especial el cáncer de pene (CaPe).
El estudio molecular del VPH y la identificación de proteínas esenciales ha permitido el desarrollo de la vacuna. Además, se identifica una relación epidemiológica clara entre el VPH y el CaPe. En el aspecto molecular de esta relación, es clara la alteración de la vía del P16 celular por las oncoproteínas del virus, aunque se cree que no es el único mecanismo de patogenia. En cuanto a la vacuna, se sugiere efectividad en la prevención contra infección del VPH en hombres, aunque no hay evidencia suficiente para aseverar la protección contra CaPe.
Teniendo en cuenta lo anterior, se abre una brecha de investigación, tanto en el área clínica, para tratar de establecer la efectividad-eficacia de la vacuna en la prevención CaPe, como el de la biología molecular en el estudio de los mecanismos moleculares en la patogenia de esta neoplasia.         
Citas
Senkomago V, Henley SJ, Thomas CC, Mix JM, Markowitz LE, Saraiya M. Human Papillomavirus–Attributable Cancers — United States, 2012–2016. MMWR Morb Mortal Wkly Rep. 2019 Aug 23;68(33):724–8. doi: https://dx.doi.org/10.15585%2Fmmwr.mm6833a3
Forman D, de Martel C, Lacey CJ, Soerjomataram I, Lortet-Tieulent J, Bruni L, et al. Global Burden of Human Papillomavirus and Related Diseases. Vaccine. 2012 Nov 20;30:F12–23. doi: https://doi.org/10.1016/j.vaccine.2012.07.055
Fitzmaurice C, Allen C, Barber RM, Barregard L, Bhutta ZA, Brenner H, et al. Global, Regional, and National Cancer Incidence, Mortality, Years of Life Lost, Years Lived With Disability, and Disability-Adjusted Life-years for 32 Cancer Groups, 1990 to 2015: A Systematic Analysis for the Global Burden of Disease Study. JAMA Oncol. 2017 Apr 1;3(4):524–48. doi: https://doi.org/10.1001/jamaoncol.2016.5688
Deshmukh AA, Tanner RJ, Luetke MC, Hong Y-R, Sonawane Deshmukh K, Mainous AG. Prevalence and Risk of Penile Human Papillomavirus Infection: Evidence From The National Health and Nutrition Examination Survey 2013–2014. Clin Infect Dis. 2017 May 15;64(10):1360–6. doi: https://doi.org/10.1093/cid/cix159
Cates W. Estimates of the incidence and prevalence of sexually transmitted diseases in the United States. American Social Health Association Panel. Sex Transm Dis. 1999 Apr;26(4 Suppl):S2-7. doi: https://doi.org/10.1097/00007435-199904001-00002
Diorio GJ, Leone AR, Spiess PE. Management of Penile Cancer. Urology. 2016 Oct;96:15–21. doi: https://doi.org/10.1016/j.urology.2015.12.041
Bruni L, Albero G, Serrano B, Mena M, Gómez D, Muñoz J, et al. Human Papillomavirus and Related Diseases Report. ICO/IARC Information Centre on HPV and Cancer (HPV Information Centre); 2019 Jun p. 307. Available from: https://hpvcentre.net/statistics/reports/XWX.pdf
Syrjänen S, Syrjänen K. The History of Papillomavirus Research. Cent Eur J Public Health. 2008;16:S7–41.
Bernard H-U, Burk RD, Chen Z, van Doorslaer K, zur Hausen H, de Villiers E-M. Classification of Papillomaviruses (PVs) Based on 189 PV Types and Proposal of Taxonomic Amendments. Virology. 2010 May 25;401(1):70–9. doi: https://dx.doi.org/10.1016%2Fj.virol.2010.02.002
Cubie HA. Diseases associated with human papillomavirus infection. Virology. 2013 Oct;445(1–2):21–34. doi: https://doi.org/10.1016/j.virol.2013.06.007
Doorbar J, Egawa N, Griffin H, Kranjec C, Murakami I. Human papillomavirus molecular biology and disease association. Reviews in Medical Virology. 2015;25(S1):2–23. doi: https://doi.org/10.1002/rmv.1822
Palefsky JM, Holly E. Molecular virology and epidemiology of human papillomavirus and cervical cancer. Cancer epidemiology, biomarkers & prevention : a publication of the American Association for Cancer Research, cosponsored by the American Society of Preventive Oncology. 1995;
Münger K, Phelps WC, Bubb V, Howley PM, Schlegel R. The E6 and E7 genes of the human papillomavirus type 16 together are necessary and sufficient for transformation of primary human keratinocytes. Journal of Virology. 1989 Oct 1;63(10):4417–21.
Roman A, Munger K. The papillomavirus E7 proteins. Virology. 2013 Oct;445(0):138–68. doi: https://dx.doi.org/10.1016%2Fj.virol.2013.04.013
Duensing S, Münger K. Mechanisms of genomic instability in human cancer: Insights from studies with human papillomavirus oncoproteins. International Journal of Cancer. 2004;109(2):157–62. doi: https://doi.org/10.1002/ijc.11691
Strati K. Changing Stem Cell Dynamics during Papillomavirus Infection: Potential Roles for Cellular Plasticity in the Viral Lifecycle and Disease. Viruses. 2017 Aug;9(8):221. doi: https://doi.org/10.3390/v9080221
Shafti-Keramat S, Handisurya A, Kriehuber E, Meneguzzi G, Slupetzky K, Kirnbauer R. Different Heparan Sulfate Proteoglycans Serve asCellular Receptors for HumanPapillomaviruses. Journal of Virology. 2003 Dec 15;77(24):13125–35. doi: https://doi.org/10.1128/JVI.77.24.13125-13135.2003
Johnson KM, Kines RC, Roberts JN, Lowy DR, Schiller JT, Day PM. Role of Heparan Sulfate in Attachment to and Infection of the Murine Female Genital Tract by Human Papillomavirus. J Virol. 2009 Mar;83(5):2067–74. doi: https://dx.doi.org/10.1128%2FJVI.02190-08
Selinka H-C, Florin L, Patel HD, Freitag K, Schmidtke M, Makarov VA, et al. Inhibition of Transfer to Secondary Receptors by Heparan Sulfate-Binding Drug or Antibody Induces Noninfectious Uptake of Human Papillomavirus. J Virol. 2007 Oct;81(20):10970–80. doi: https://dx.doi.org/10.1128%2FJVI.00998-07
Conway MJ, Meyers C. Replication and Assembly of Human Papillomaviruses. J Dent Res. 2009 Apr;88(4):307–17. doi: https://dx.doi.org/10.1177%2F0022034509333446
Doorbar J. Molecular biology of human papillomavirus infection and cervical cancer. Clin Sci. 2006 May;110(5):525–41. doi: https://doi.org/10.1042/CS20050369
Stanley MA. Epithelial Cell Responses to Infection with Human Papillomavirus. Clin Microbiol Rev. 2012 Apr;25(2):215–22. doi: https://dx.doi.org/10.1128%2FCMR.05028-11
Burd E. Human papillomavirus and cervical cancer. Clin Mikrobiol Rev. 16: 1—17. 2003.
Tindle RW. Immune evasion in human papillomavirus-associated cervical cancer. Nat Rev Cancer. 2002 Jan;2(1):59–65. doi: https://doi.org/10.1038/nrc700
Stratton KL, Culkin DJ. A Contemporary Review of HPV and Penile Cancer. Oncology (Williston Park, NY). 2016 Mar;30(3):245–9.
Mammas IN, Spandidos DA, Sourvinos G. Genomic diversity of human papillomaviruses (HPV) and clinical implications: an overview in adulthood and childhood. Infect Genet Evol. 2014 Jan;21:220–6. doi: https://doi.org/10.1016/j.meegid.2013.11.002
Olesen TB, Sand FL, Rasmussen CL, Albieri V, Toft BG, Norrild B, et al. Prevalence of human papillomavirus DNA and p16INK4a in penile cancer and penile intraepithelial neoplasia: a systematic review and meta-analysis. Lancet Oncol. 2019;20(1):145–58. doi: https://doi.org/10.1016/S1470-2045(18)30682-X
Emmanuel A, Nettleton J, Watkin N, Berney DM. The molecular pathogenesis of penile carcinoma—current developments and understanding. Virchows Arch. 2019 Oct 1;475(4):397–405. doi: https://doi.org/10.1007/s00428-019-02607-8
Kayes O, Ahmed HU, Arya M, Minhas S. Molecular and genetic pathways in penile cancer. Lancet Oncol. 2007 May;8(5):420–9. doi: https://doi.org/10.1016/S1470-2045(07)70137-7
Protzel C, Spiess PE. Molecular Research in Penile Cancer—Lessons Learned from the Past and Bright Horizons of the Future? Int J Mol Sci. 2013 Sep 26;14(10):19494–505. doi: https://dx.doi.org/10.3390%2Fijms141019494
Adashek JJ, Necchi A, Spiess PE. Updates in the molecular epidemiology and systemic approaches to penile cancer. Urologic Oncology: Seminars and Original Investigations. 2019 Jul;37(7):403–8. doi: https://doi.org/10.1016%2Fj.urolonc.2019.04.012
Poetsch M, Hemmerich M, Kakies C, Kleist B, Wolf E, vom Dorp F, et al. Alterations in the tumor suppressor gene p16INK4Aare associated with aggressive behavior of penile carcinomas. Virchows Arch. 2011 Feb 1;458(2):221–9. doi: https://doi.org/10.1007/s00428-010-1007-4
Hanahan D, Weinberg RA. Hallmarks of Cancer: The Next Generation. Cell. 2011 Mar 4;144(5):646–74. doi: https://doi.org/10.1016/j.cell.2011.02.013
Peter M, Rosty C, Couturier J, Radvanyi F, Teshima H, Sastre-Garau X. MYC activation associated with the integration of HPV DNA at the MYC locus in genital tumors. Oncogene. 2006 Sep 28;25(44):5985–93. doi: https://doi.org/10.1038/sj.onc.1209625
Chipollini J, Chaing S, Azizi M, Kidd LC, Kim P, Spiess PE. Advances in Understanding of Penile Carcinogenesis: The Search for Actionable Targets. Int J Mol Sci. 2017 Aug 16;18(8). [accessed 6 May 2020] Available from: https://www.ncbi.nlm.nih.gov/pmc/articles/PMC5578166/
Agarwal G, Gupta S, Spiess PE. Novel targeted therapies for the treatment of penile cancer. Expert Opinion on Drug Discovery. 2014 Aug 1;9(8):959–68. doi: https://doi.org/10.1517/17460441.2014.925875
Guimerà N, Lloveras B, Lindeman J, Alemany L, van de Sandt M, Alejo M, et al. The occasional role of low-risk human papillomaviruses 6, 11, 42, 44, and 70 in anogenital carcinoma defined by laser capture microdissection/PCR methodology: results from a global study. Am J Surg Pathol. 2013 Sep;37(9):1299–310. doi: https://doi.org/10.1097/PAS.0b013e31828b6be4
Harper DM, DeMars LR. HPV vaccines - A review of the first decade. Gynecol Oncol. 2017;146(1):196–204. doi: https://doi.org/10.1016/j.ygyno.2017.04.004
Trimble CL, Morrow MP, Kraynyak KA, Shen X, Dallas M, Yan J, et al. Safety, efficacy, and immunogenicity of VGX-3100, a therapeutic synthetic DNA vaccine targeting human papillomavirus 16 and 18 E6 and E7 proteins for cervical intraepithelial neoplasia 2/3: a randomised, double-blind, placebo-controlled phase 2b trial. Lancet. 2015 Nov 21;386(10008):2078–88. doi: https://dx.doi.org/10.1016%2FS0140-6736(15)00239-1
Granadillo M, Torréns I. Human papillomavirus vaccines: current status and perspectives. Biotecnologia Aplicada. 2008;25(1):1–6.
Stillo M, Santisteve PC, Lopalco PL. Safety of human papillomavirus vaccines: a review. Expert Opinion on Drug Safety. 2015 May 4;14(5):697–712. doi: https://doi.org/10.1517/14740338.2015.1013532
Stanley M. HPV - immune response to infection and vaccination. Infect Agents Cancer. 2010 Oct 20;5(1):19. doi: https://doi.org/10.1186/1750-9378-5-19
Douglawi A, Masterson TA. Updates on the epidemiology and risk factors for penile cancer. Transl Androl Urol. 2017 Oct;6(5):785–90. doi: https://dx.doi.org/10.21037%2Ftau.2017.05.19
Giuliano AR, Palefsky JM, Goldstone S, Moreira ED, Penny ME, Aranda C, et al. Efficacy of Quadrivalent HPV Vaccine against HPV Infection and Disease in Males. N Engl J Med. 2011 Feb 3;364(5):401–11. doi: https://dx.doi.org/10.1056%2FNEJMoa0909537
Harder T, Wichmann O, Klug SJ, van der Sande MAB, Wiese-Posselt M. Efficacy, effectiveness and safety of vaccination against human papillomavirus in males: a systematic review. BMC Med. 2018 Jul 18;16. [accessed 6 May 2020] Available from: https://www.ncbi.nlm.nih.gov/pmc/articles/PMC6050686/
Voris BRI, Visintin CDN, Reis LO, Voris BRI, Visintin CDN, Reis LO. HPV vaccination is fundamental for reducing or erradicate penile cancer | Opinion: YES. International braz j urol. 2018 Oct;44(5):859–61. doi: https://doi.org/10.1590/s1677-5538.ibju.2018.05.02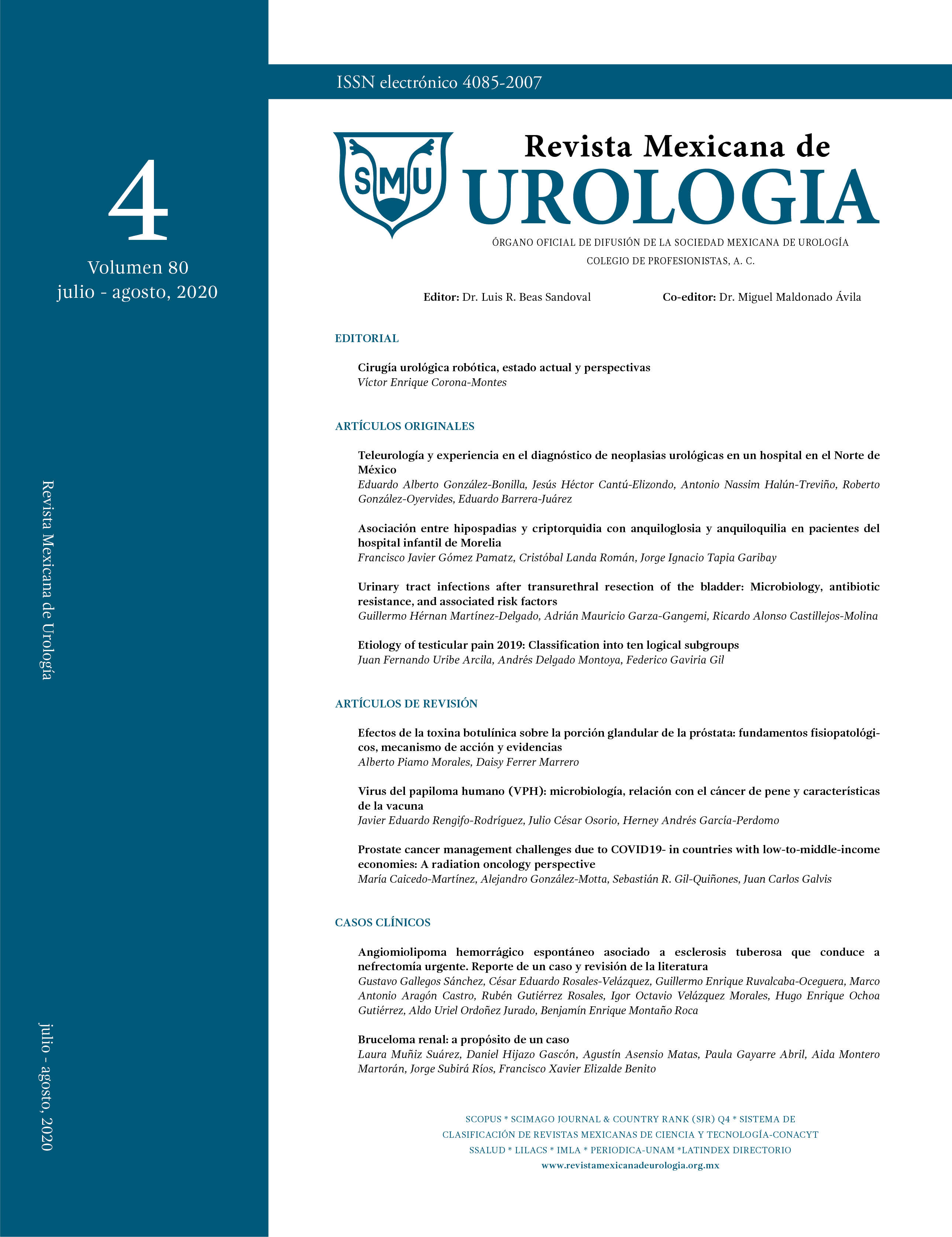 Descargas
Sección
Artículos de revisión