Etiología del dolor testicular 2019: Clasificación en diez subgrupos lógicos
Palabras clave:
Dolor, Dolor agudo, Dolor crónico, Dolor visceral, Dolor ecrotal, Dolor testicular, Orquialgia
Resumen
Introducción: El dolor testicular es un vasto campo de diagnóstico médico, donde convergen múltiples órganos y sistemas. El dolor testicular agudo es una emergencia médica que necesita una evaluación adecuada y una resolución inmediata; pero cuando aparece como un problema crónico, se convierte en un enigma que requiere un buen conocimiento de los mecanismos del dolor testicular y el diagnóstico diferencial.
Objetivo: Revisar la etiología del dolor testicular y proponer una nueva clasificación en diez subgrupos etiológicos.
Método: Se realizó una búsqueda bibliográfica en Google y las bases de datos National Library of Medicine's PubMed para identificar artículos originales y de revisión, publicados o publicados electrónicamente, sobre el dolor testicular, hasta marzo de 2020. Los términos de la búsqueda incluyeron: Términos MESH: Enfermedad testicular (Classificacion, complicationes, etiologia, trauma, microbiologia, patologia, fisiopatologia, secondaria, cirugía, tratamiento) y vasectomia. Términos No MESH: orquialgia aguda y crónica, escrotalgia, orquidinia, inguinalgia, epididimalgia, testalgia, dolor testicular crónico, síndrome de dolor escrotal crónico, síndrome de dolor testicular, síndrome de dolor epididimario y síndrome de dolor post vasectomía. La búsqueda inicial produjo 625 artículos y 145 se incluyeron en la presente revisión.
Resultados: De 100 diagnósticos posibles, para comprender mejor la etiología del dolor testicular, se pueden subdividir en diez subgrupos: infecciosos, neoplásicos, traumáticos, torsionales, vasculares, inmunológicos, neurológicos, farmacológicos, post obstrucción y causas diversas.  Asimismo, el tratamiento se puede dividir en dos grupos mayores según las opciones terapéuticas: tratamiento farmacológico y no farmacológico, este último con una subdivisión: opciones no invasivas e invasivas (quirúrgicas) que se están expandiendo.
Conclusiones: El dolor testicular debe entenderse como un síndrome doloroso complejo con un origen enigmático. El éxito del tratamiento depende de la correcta identificación de la fuente del dolor; con un centenar de causas posibles, el uso de una agrupación lógica podría facilitar esta identificación.
Citas
Waldman SD. Orchialgia. In: Atlas of Uncommon Pain Syndromes [Internet]. Elsevier; 2014 [cited 2018 Aug 20]. p. 251–3. Available from: http://linkinghub.elsevier.com/retrieve/pii/B9781455709991000861
Uribe, JF. Testicular Pain. In: Potts JM, editor. Genitourinary pain and inflammation: diagnosis and management. Totowa, NJ: Humana Press; 2008. p. 135–65. (Current clinical urology).
Bruns T, Ergiin, S, Tauber R. Angioarchitecture of the human spermatic cord. In: Felipo V, Grisolía S, editors. Advances in Cirrhosis, Hyperammonemia, and Hepatic Encephalopathy [Internet]. Boston, MA: Springer US; 1997 [cited 2018 Jun 12]. p. 183–5. (Advances in Experimental Medicine and Biology; vol. 420). Available from: http://link.springer.com/10.1007/978-1-4615-5945-0
Glass JM, Watkin NA. From mutilation to medication: the history of orchidectomy. BJU Int. 1997 Sep;80(3):373–8.
Marcozzi D, Suner S. The nontraumatic, acute scrotum. Emerg Med Clin North Am. 2001 Aug;19(3):547–68.
Noske H-D, Kraus SW, Altinkilic BM, Weidner W. Historical milestones regarding torsion of the scrotal organs. J Urol. 1998 Jan;159(1):13–6.
Granitsiotis P, Kirk D. Chronic Testicular Pain: An Overview. Eur Urol. 2004 Apr;45(4):430–6.
Quallich SA, Arslanian-Engoren C. Chronic unexplained orchialgia: a concept analysis. J Adv Nurs. 2014 Aug;70(8):1717–26.
Aljumaily A, Al-Khazraji H, Gordon A, Lau S, Jarvi KA. Characteristics and Etiologies of Chronic Scrotal Pain: A Common but Poorly Understood Condition. Pain Res Manag. 2017;2017:1–5.
Katz J, Rosenbloom BN, Fashler S. Chronic Pain, Psychopathology, and DSM-5 Somatic Symptom Disorder. Can J Psychiatry. 2015 Apr;60(4):160-7. Review. PubMed PMID: 26174215; PubMed Central PMCID: PMC4459242.
Murnion BP. Neuropathic pain: current definition and review of drug treatment. Aust Prescr. 2018 Jun;41(3):60-63. doi: 10.18773/austprescr.2018.022. Epub 2018 Jun 1. Review. PubMed PMID: 29921999; PubMed Central PMCID: PMC6003018.
Tung K-W, Behera D, Biswal S. Neuropathic Pain Mechanisms and Imaging. Semin Musculoskelet Radiol. 2015 Mar 12;19(02):103–11.
McConaghy JR, Panchal B. Epididymitis: An Overview. Am Fam Physician. 2016 Nov 1;94(9):723-726. Review. PubMed PMID: 27929243.
Sigalos JT, Pastuszak AW. Chronic orchialgia: epidemiology, diagnosis and evaluation. Transl Androl Urol. 2017 May;6(S1):S37–43.
D. Engeler (Chair), A.P. Baranowski, B. Berghmans, J. Borovicka, A.M. Cottrell, P.S. Elneil, J. Hughes, E. Messelink (Vice-chair), A.C. de C Williams, et al. Guidelines on chronic pelvic pain. Eur Assoc Urol [Internet]. 2019; Available from: https://uroweb.org/guideline/chronic-pelvic-pain/
Prehn DT. A new sign in the differential diagnosis between torsion of the spermatic cord and epididymitis. J Urol. 1934 Aug;32(2):191–200.
Bosilkovski M, Kamiloski V, Miskova S, Balalovski D, Kotevska V, Petrovski M. Testicular infection in brucellosis: Report of 34 cases. J Microbiol Immunol Infect. 2018 Feb;51(1):82–7.
Patne SCU, Das M, Katiyar R. Filarial Orchitis due to Wuchereria bancrofti Masquerading as Testicular Neoplasm. Am J Trop Med Hyg. 2016 Sep 7;95(3):497–8.
Bharucha AE, Lee TH. Anorectal and Pelvic Pain. Mayo Clin Proc. 2016 Oct;91(10):1471–86.
Ciftci H, Savas M, Yeni E, Verit A, Topal U. Chronic orchialgia and associated diseases. Curr Urol. 2010;4(2):67–70.
Aljumaily A, Al-Khazraji HAJ, Gordon A, Lau S, Jarvi KA. Chronic scrotal pain may lead to reduced sexual function and interest, while sexual activity may worsen chronic scrotal pain: "double jeopardy." Transl Androl Urol. 2018 Mar;7(S1):S23–8.
Ghazarian AA, Rusner C, Trabert B, Braunlin M, McGlynn KA, Stang A. Testicular cancer among US men aged 50 years and older. Cancer Epidemiol. 2018 Aug;55:68–72.
Pedersen MR, Rafaelsen SR, Møller H, Vedsted P, Osther PJ. Testicular microlithiasis and testicular cancer: review of the literature. Int Urol Nephrol. 2016 Jul;48(7):1079–86.
Celigoj FA, Costabile RA. Surgery of the Scrotum and Seminal Vesicles. In: Campbell´s Urology. 11th ed. Philadelphia, PA: Elsevier; 2016. p. 946–66.
Chung JH, Moon HS, Choi HY, Jeong TY, Ha U-S, Han JH, et al. Inhibition of Adhesion and Fibrosis Improves the Outcome of Epididymectomy as a Treatment for Chronic Epididymitis: a Multicenter, Randomized Controlled, Single-Blind Study. J Urol. 2013 May;189(5):1730–4.
Owen RC, McCormick BJ, Figler BD, Coward RM. A review of varicocele repair for pain. Transl Androl Urol. 2017 May;6(S1):S20–9.
Horovitz D, Tjong V, Domes T, Lo K, Grober ED, Jarvi K. Vasectomy Reversal Provides Long-Term Pain Relief for Men with the Post-Vasectomy Pain Syndrome. J Urol. 2012 Feb;187(2):613–7.
Sinha V, Ramasamy R. Post-vasectomy pain syndrome: diagnosis, management and treatment options. Transl Androl Urol. 2017 May;6(S1):S44–7.
Sureka SK, Srivastava A, Agarwal S, Srivastava A, An S, Singh S, et al. Prevention of Orchialgia After Left-Sided Laparoscopic Donor Nephrectomy—A Prospective Study. J Endourol. 2015 Jun;29(6):696–9.
Zavras N, Siatelis A, Misiakos E, Bagias G, Papachristos V, Machairas A. Testicular Dislocation After Scrotal Trauma: A Case Report and Brief Literature Review. Urol Case Rep. 2014 May;2(3):101–4.
Al-Kandari AM, Kehinde EO, Khudair S, Ibrahim H, ElSheemy MS, Shokeir AA. Intermittent Testicular Torsion in Adults: An Overlooked Clinical Condition. Med Princ Pract. 2017;26(1):30–4.
Boettcher M, Bergholz R, Krebs TF, Wenke K, Treszl A, Aronson DC, et al. Differentiation of Epididymitis and Appendix Testis Torsion by Clinical and Ultrasound Signs in Children. Urology. 2013 Oct;82(4):899–904.
Peracha J. Urological manifestations and treatment of the primary systemic vasculitides. World J Clin Urol. 2015;4(1):5.
Dixit A, Hague C, Bicknell S. Testicular Vasculitis: A Sonographic and Pathologic Diagnosis. Case Rep Radiol. 2017;2017:1–4.
Park HJ, Lee SS, Park NC. Predictors of pain resolution after varicocelectomy for painful varicocele. Asian J Androl. 2011 Sep;13(5):754–8.
Raghavendran M, Venugopal A, Kiran Kumar G. Thrombosed varicocele - a rare cause for acute scrotal pain: a case report. BMC Urol [Internet]. 2018 Dec [cited 2018 Aug 20];18(1). Available from: https://bmcurol.biomedcentral.com/articles/10.1186/s12894-018-0347-2
Smets T, Reichman G, Michielsen DPJ. Segmental testicular infarction: a case report. J Med Case Reports [Internet]. 2017 Dec [cited 2018 Aug 20];11(1). Available from: http://jmedicalcasereports.biomedcentral.com/articles/10.1186/s13256-017-1308-1
Silva CA, Cocuzza M, Carvalho JF, Bonfá E. Diagnosis and classification of autoimmune orchitis. Autoimmun Rev. 2014 Apr;13(4–5):431–4.
Casarin Costa JR, Virgens AR, de Oliveira Mestre L, Dias NF, Samorano LP, Valente NYS, et al. Sweet Syndrome: Clinical Features, Histopathology, and Associations of 83 Cases. J Cutan Med Surg. 2017 May;21(3):211–6.
Esposito F, Sanchez O, Siebert JN, Manzano S. Acute scrotal idiopathic edema: A misleading erythema. CJEM. 2017 Jun 19;1.
Cui T, Terlecki R. Prevalence of Relative Deficiencies in Testosterone and Vitamin B12 Among Patients Referred for Chronic Orchialgia: Implications for Management. Am J Mens Health. 2018 May;12(3):608–11.
Tojuola B, Layman J, Kartal I, Gudelogul A, Brahmbhatt J, Parekattil S. Chronic orchialgia: Review of treatments old and new. Indian J Urol. 2016;32(1):21–6.
Ölçücü MT, Ölçücü N, Ölçücüoğlu E, Ölçücüoğlu EA, Özgök Y. Response to duloxetine and gabapentin combination of a patient who has chronical orchialgia with bilateral tubular ectasia of rete testis and multiple epididymal cysts. Turk J Urol. 2018 May;44(3):274-277.
Fine PG, Rosenfeld MJ. The Endocannabinoid System, Cannabinoids, and Pain. Rambam Maimonides Med J [Internet]. 2013 Oct 29 [cited 2018 Aug 20];4(4). Available from: https://www.rmmj.org.il/issues/18/Articles/298
Calixte N, Brahmbhatt J, and Parekattil S. Genital Pain: Algorithm for management. Translational Andrology and Urology 6, no. 2 (April 2017): 252–57. https://doi.org/10.21037/tau.2017.03.03.
Chen R, Nickel JC. Acupuncture ameliorates symptoms in men with chronic prostatitis/ chronic pelvic pain syndrome. Urology. 2003 Jun;61(6):1156–9.
Calixte N, Tojuola B, Kartal I, Gudeloglu A, Hirsch M, Etafy M, Mendelson R, Djokic B, Sherba S, Shah K, Brahmbhatt J, Parekattil S. Targeted Robotic Assisted Microsurgical Denervation of the Spermatic Cord for the Treatment of Chronic Orchialgia or Groin Pain: A Single Center, Large Series Review. J Urol. 2018 Apr;199(4):1015-1022.
Basal S, Ergin A, Yildirim I, Goktas S, Atim A, Sizlan A, et al. A Novel Treatment of Chronic Orchialgia. J Androl. 2012 Jan 1;33(1):22–6.
Lee JY, Cho KS, Lee SH, Cho HJ, Cho JM, Oh CY, et al. A comparison of epididymectomy with vasectomy reversal for the surgical treatment of postvasectomy pain syndrome. Int Urol Nephrol. 2014 Mar;46(3):531–7.
Lowe G. Extirpative surgery for chronic orchialgia: is there a role? Transl Androl Urol. 2017 May; 6(S1):S2–5.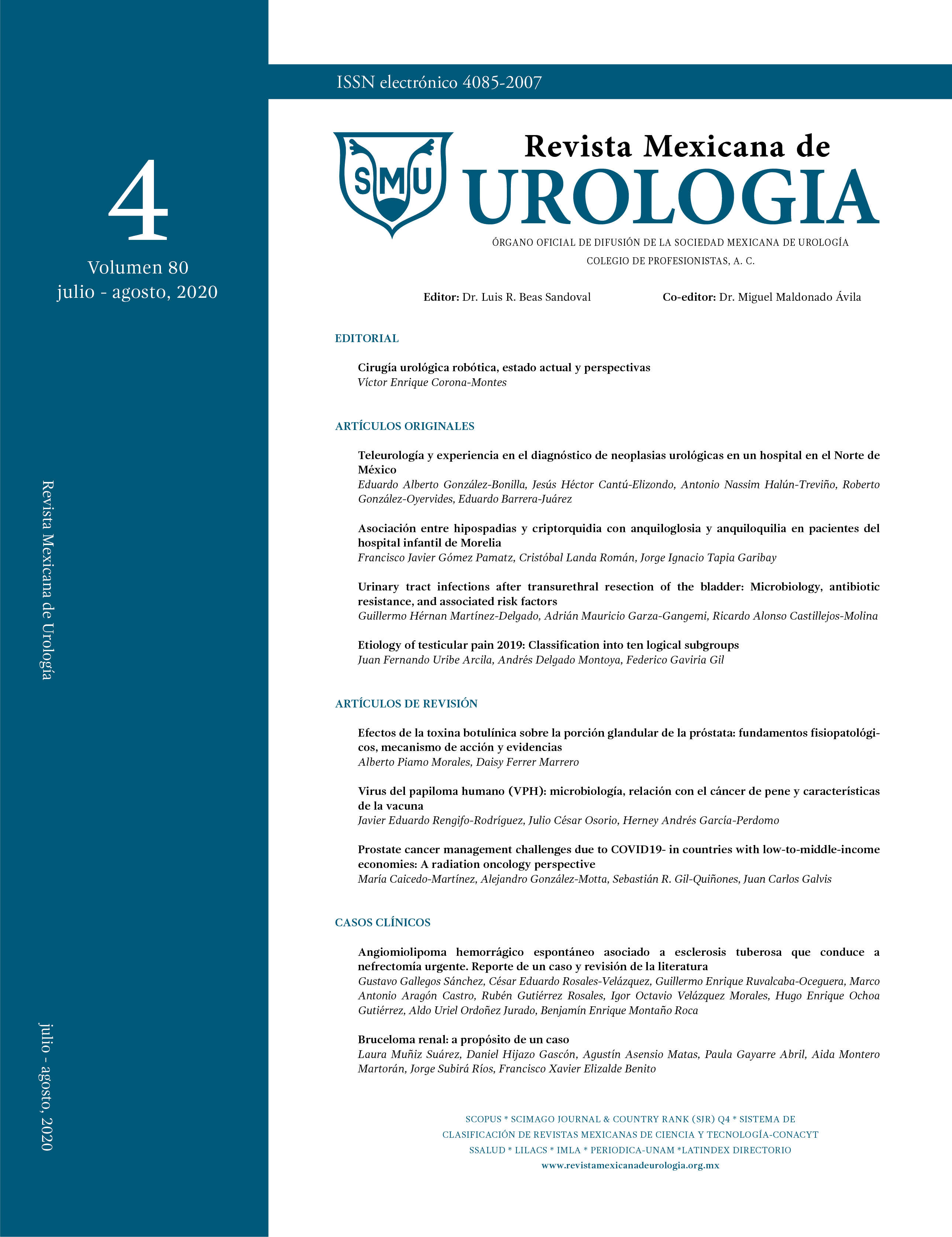 Sección
Artículos originales