Respuesta: Solomon-Greenwell como el nomograma más preciso para la obstrucción de la salida de la vejiga femenina
Palabras clave:
Female, Bladder outlet obstruction, Pressure-flow study, Urodynamics
Resumen
Carta al Editor. No requiere resumen
Referencias
Castro-Núñez P, Noyola-Ávila I, Maldonado-Alcaraz E, Moreno-Palacios J, Amaya FST. Solomon-Greenwell as the most accurate nomogram for female bladder outlet obstruction. Revista Mexicana de Urología. 2022;82(6):1–5. doi: https://doi.org/10.48193/revistamexicanadeurologa.v82i6.873
Abrams P, Cardozo L, Fall M, Griffiths D, Rosier P, Ulmsten U, et al. The standardisation of terminology in lower urinary tract function: report from the standardisation sub-committee of the International Continence Society. Urology. 2003;61(1):37–49. doi: https://doi.org/10.1016/s0090-4295(02)02243-4
Rosier PFWM, Gammie A, Valdevenito JP, Speich J, Smith P, Sinha S, et al. ICS-SUFU standard: Theory, terms, and recommendations for pressure-flow studies performance, analysis, and reporting. Part 2: Analysis of PFS, reporting, and diagnosis. Neurourol Urodyn. 2023; doi: https://doi.org/10.1002/nau.25187
Haylen BT, de Ridder D, Freeman RM, Swift SE, Berghmans B, Lee J, et al. An International Urogynecological Association (IUGA)/International Continence Society (ICS) joint report on the terminology for female pelvic floor dysfunction. Int Urogynecol J. 2010;21(1):5–26. doi: https://doi.org/10.1007/s00192-009-0976-9
Valdevenito JP, Averbeck MA, Sinha S, Finazzi-Agro E, Gammie A. Re: Karl H. Pang, Riccardo Campi, Salvador Arlandis, et al. Diagnostic Tests for Female Bladder Outlet Obstruction: A Systematic Review from the European Association of Urology Non-neurogenic Female LUTS Guidelines Panel. Eur Urol Focus 2022;8:1015-30. Eur Urol Focus. 2023;S2405-4569(23)00030-5. doi: https://doi.org/10.1016/j.euf.2023.01.015
Farrar DJ, Osborne JL, Stephenson TP, Whiteside CG, Weir J, Berry J, et al. A urodynamic view of bladder outflow obstruction in the female: factors influencing the results of treatment. Br J Urol. 1975;47(7):815–22. doi: https://doi.org/10.1111/j.1464-410x.1975.tb04062.x
Chassagne S, Bernier PA, Haab F, Roehrborn CG, Reisch JS, Zimmern PE. Proposed cutoff values to define bladder outlet obstruction in women. Urology. 1998;51(3):408–11. doi: https://doi.org/10.1016/s0090-4295(97)00634-1
Lemack GE, Zimmern PE. Pressure flow analysis may aid in identifying women with outflow obstruction. J Urol. 2000;163(6):1823–8.
Defreitas GA, Zimmern PE, Lemack GE, Shariat SF. Refining diagnosis of anatomic female bladder outlet obstruction: comparison of pressure-flow study parameters in clinically obstructed women with those of normal controls. Urology. 2004;64(4):675–9; discussion 679-681. doi: https://doi.org/10.1016/j.urology.2004.04.089
Blaivas JG, Groutz A. Bladder outlet obstruction nomogram for women with lower urinary tract symptomatology. Neurourol Urodyn. 2000;19(5):553–64. doi: https://doi.org/10.1002/1520-6777(2000)19:5<553::aid-nau2>3.0.co;2-b
Solomon E, Yasmin H, Duffy M, Rashid T, Akinluyi E, Greenwell TJ. Developing and validating a new nomogram for diagnosing bladder outlet obstruction in women. Neurourology and Urodynamics. 2018;37(1):368–78. doi: https://doi.org/10.1002/nau.23307
Nitti VW, Tu LM, Gitlin J. Diagnosing bladder outlet obstruction in women. J Urol. 1999 May;161(5):1535–40.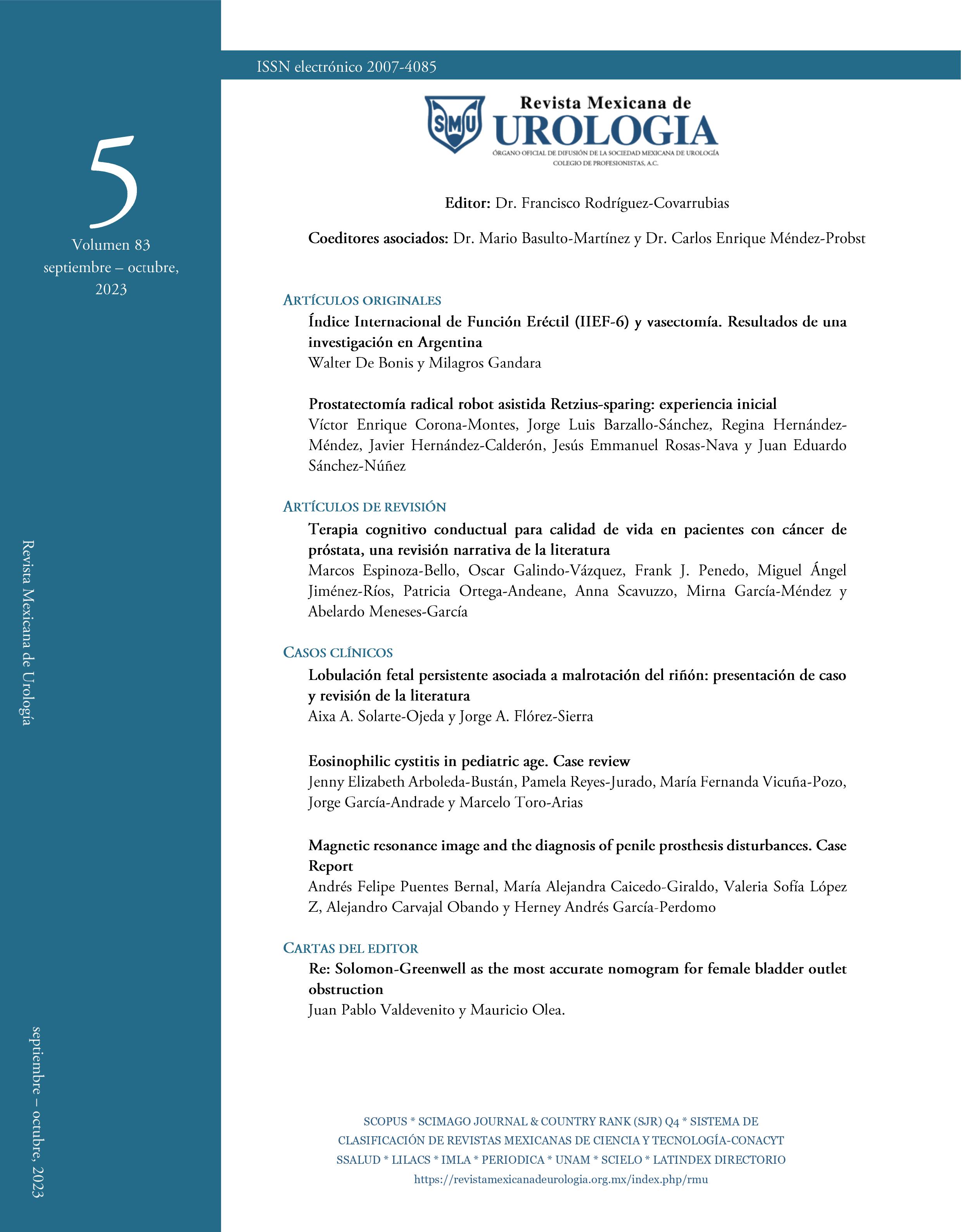 Descargas